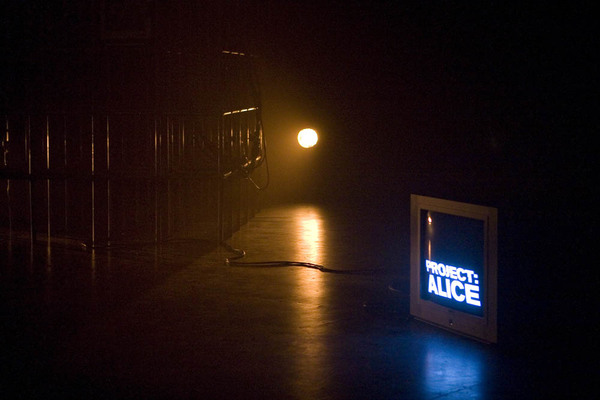 Project: ALICE is a new Australian work inspired by the Lewis Caroll classic Alice in Wonderland. It rewrites the tale from a generation Y perspective, exploring the rabbit holes of technology and isolation. It premiered in Track 8, CarriageWorks, Sydney, Australia in May 2009.
For this project we went all out on the production elements – A/V, lighting and sound were huge parts of the show. In fact they needed to be huge in order to match the colossal energy of the performers.
Read the full production report with photos here.
Director / Design: Mark Haslam
Alice: Jess Cook aka Cook'n'kitch
The Hatter: Bravo Child

Visuals: Melvin J Montalban
Co-Design / Production Management: Toby Knyvett
Written by: Mark Haslam, Alana Hicks, Bravo Child, Jess Cook, Miles Merrill, Donne Restrom
Photos by Tania Lambert

Special thanks to Emma Lockheart-Wilson, Amber Silk, Alistair Davies and Daniel Potter.