The Snatch Paradise gala premiere was a challenge because not only did it have to look and sound great but it was also a fund-raising event held in order to send the show over to England. It needed to make money. With the tickets set at $50 a head (very pricey for independent theatre) we set an equally high bar for the technical production, however it had to cost us as a little as possible. Time to call in some favours.
The venue was Fraser Studios – a not-for-profit artspace in Chippendale, Sydney. The building itself is a beautiful warehouse with plenty of character, however no staging or lighting infrastructure so we had to bring everything in ourselves.
With these factors in mind we needed to find a design concept that was affordable but looked great. We decided to accentuate what we already had: The beautiful architecture of the space and several playful artworks that Fraser Studios kindly gave us permission to use in our set.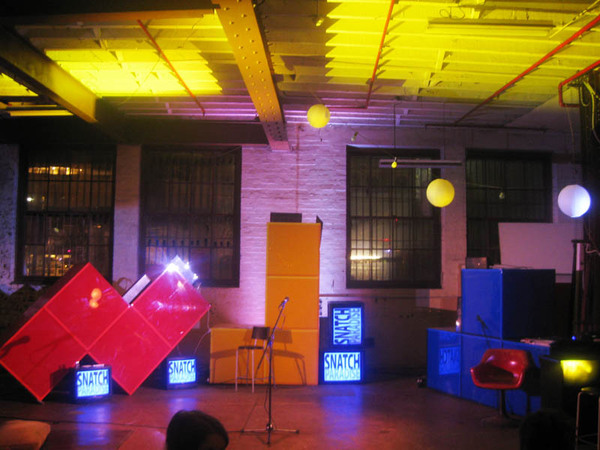 The whole night was designed to feel like a cosmopolitan warehouse party rather than a theatre show and some domestic party lights helped us get there. I normally wouldn't use these but in industrial spaces I find they really help to soften the room and give it an 'indie' look.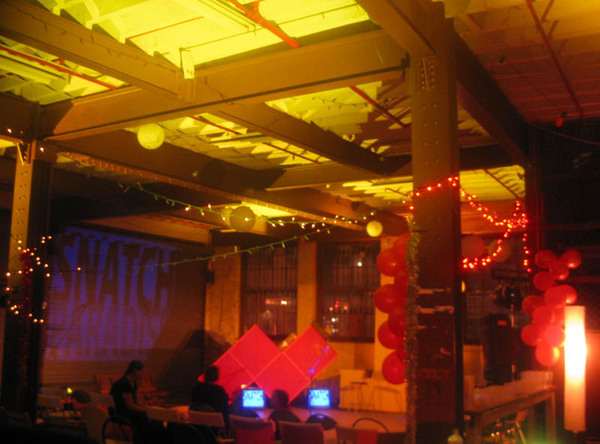 Due to a lack of setup time and power I decided to use a number of colour changing fixtures, both LED and discharge based. I approached some friends and managed to get hold of some old Clay Paky Combicolours. These are a 575w discharge changer with two colour wheels and a gobo wheel. These units had no lenses so the fixture wasn't capable of producing sharp images, however the gobo wheel was still useful in its continuous spin mode where it could induce a gentle movement in a static colour. The colours themselves were typical bright discharge hues although there were a couple of 'theatre-friendly' pastels, which was a nice surprise. The other nice suprise was the relatively smooth mechanical dimmer, something I wasn't expecting from an older fixture. I used them to light the ceiling throughout the party and the show, highlighting the warehouse architecture.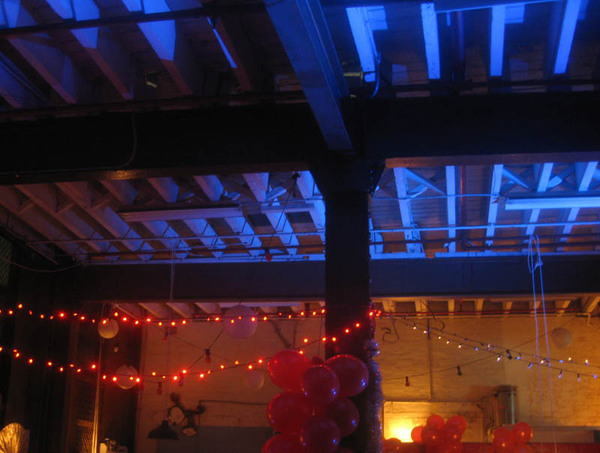 I also used four Martin CX-10 colour changers, a discontinued 250w discharge unit. These have one colour wheel, a gobo wheel and a frost, as well as a mechanical dimmer/strobe. I found the colours a bit jarring, even with the colour correction filter from the gobo wheel in place. The dimming was also poor, a linear fade on the hog producing a stuttering fade from the unit. The frost saved them though, acheiving a nearly 180 degree flood over the back wall. Whilst I can't reccomend these for much, as uplights on walls they do get the job done. I had two of them on the floor behind the set and they filled the rear wall nicely.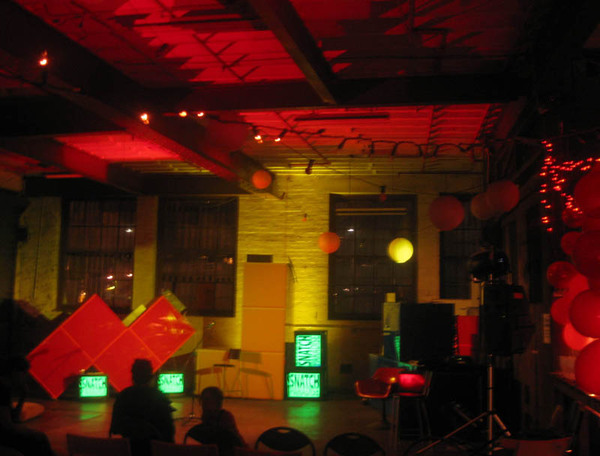 Other lighting gear included some cheap LED pinspots and panels I managed to get for gratis. The pinspots were set to auto mode and placed in a few choice locations around the place where they did their job as party decoration.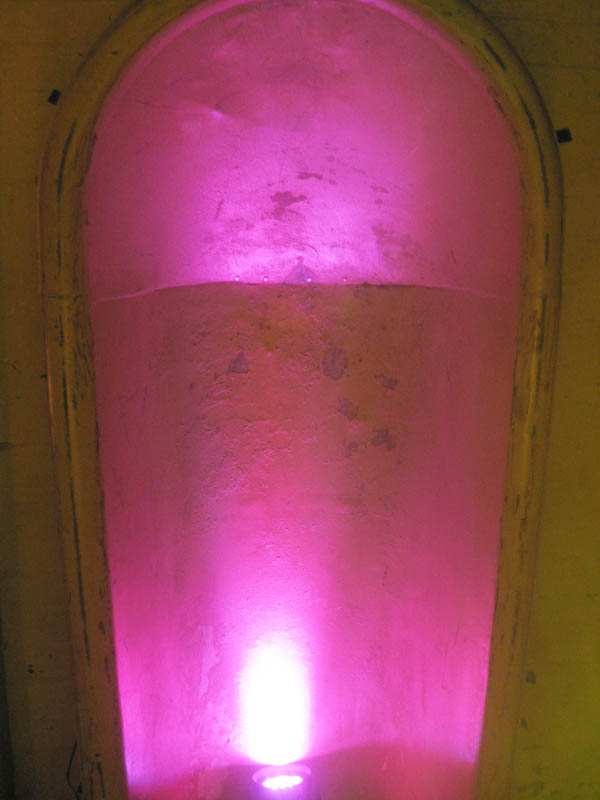 I used the panels as a clubby backlight for some of the songs, unfortunately the dimming on them was even worse than the CX-10s so they ended up just switching through colours.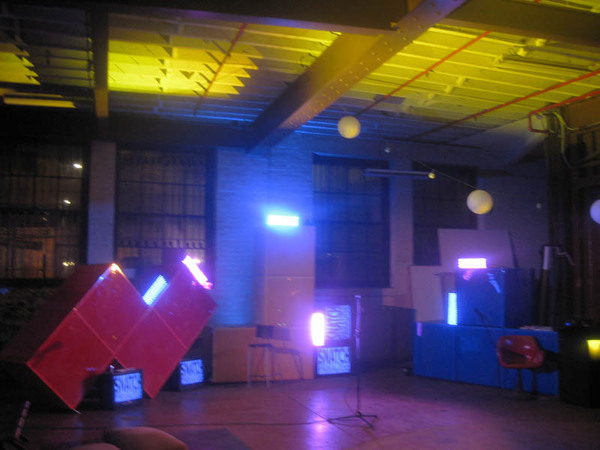 Snatch Paradise also has a number of projected cues. I knew the projector I had wasn't going to cut through the lighting so we opted to use some TV's to do the main cues. I still set the projector up for an interesting look on a garage door.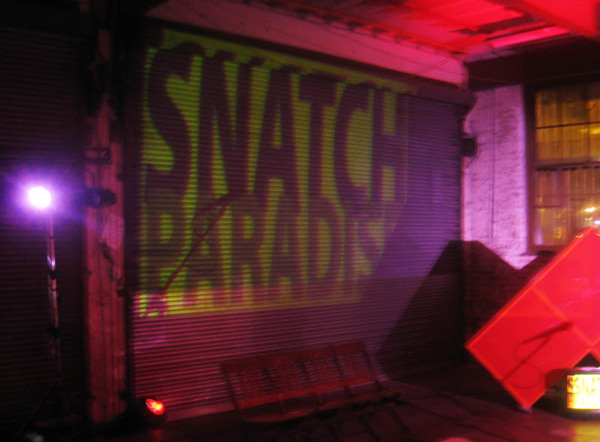 I didn't want the TV's to sit blank when there were no AV cues so I created a simple media server in vvvv
– a multipurpose programming environment suited to multimedia applications. The patch I created allowed the colour to be controlled via DMX, this way the tv image could be integrated in all the cues rather than simply being a black square on the stage.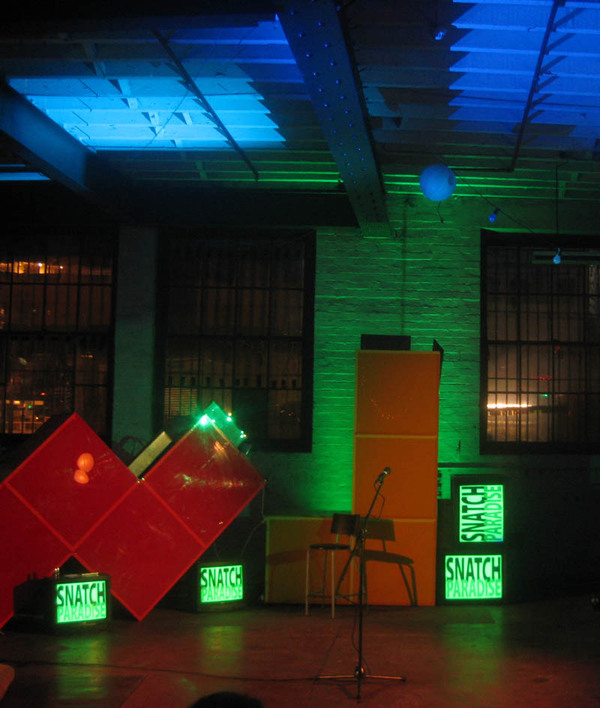 Lighting:
1 x Hog 600
8 x LED pinspot
6 x LED panel
4 x Martin Cx 10 Extreme
6 x Clay Paky CombiColour
2 x Selecon Acclaim 650w PC
1 x Theatrelight Single channel Dimmer
AV:
1 x Denon DN-V 210 pro DVD player
1 x Edirol V-4 video mixer
1 x Laptop w/ Enttec DMX USB Pro
1 x Scan converter – VGA to Composite
4 x Television
1 x Mitsubishi Projector